R-SIM 8 PRO is the only one perfect unlock sim that no need jailbreak for iphone 5 Sprint on IOS7 in the world . R-SIM have created many NO.1.for example : the first create unlock sim card for iphone 4S ,the frist unlock sim card for both iphone 4s and iphone 5 ,the first support iphone 5 ios7 sprint ,the NO.1 sales and so on .
R-SIM8 PRO have default version and special version ,default version is plug and play ,special version is pomp up menu then select the carrier then reboot iphone for the first time .this unlock sim card is the best ,easiest one in the world ,welcome to order !
China:http://v.youku.com/v_show/id_XNjEzNjgyNDM2.html?qq-pf-to=pcqq.group
World:http://www.youtube.com/watch?v=Tg8VmPqIF-M
R-SIM8 PRO For iphone 5 iOS7.0-7.X, (Phone/SMS/ internet) ,R-SIM Newest Activation Software 5.1.3 Version, updating iOS7.X iphone5(Sprint) perfectly solving the problems of GSM, WCDMA 186USIM, Nano 128K/256K, 3G/4G sim cards' SMS and EDGE Internet.Note: Please open 2G in R-SIM3 Activation Software, solving the problem of iOS7.X 4S(Sprint)2G internet.
R-SIM has been imitated, but never surpassed.R-SIM cards activation program is the assist firmware of the end of R-SIM PC end. It mainly solve the 3G/4G-128/256K SIM Card problem for iPhone 4S and 5 IOS7、IOS6(IOS6.0, 6.0.1, 6.1, 6.1.1, 6.1.2,6.1.3,6.1.4),4S/iphone Sprint, Verzion, etc... And the Sprint iPhone 5 SMS, Internet problem solved by the 3G patch. The R-SIM cards usability is more stabilize, more perfect, It suits for all over the world and all the iPhone 4S, don't need jailbreak, and the GSM WCDMA perfect unlock. Welcome to download!
R-SIM8 PRO Operating Instructions For iphone5 iOS7.0-7.X (Click here)!
R-SIM 4G/3G USIM Nano patch Installation Instructions For iphone5 iOS7.0-7.X (Click here)!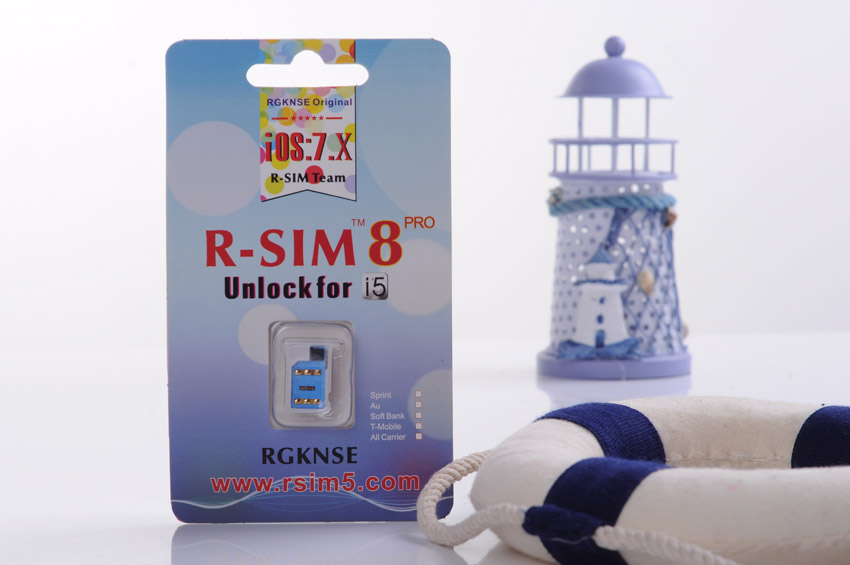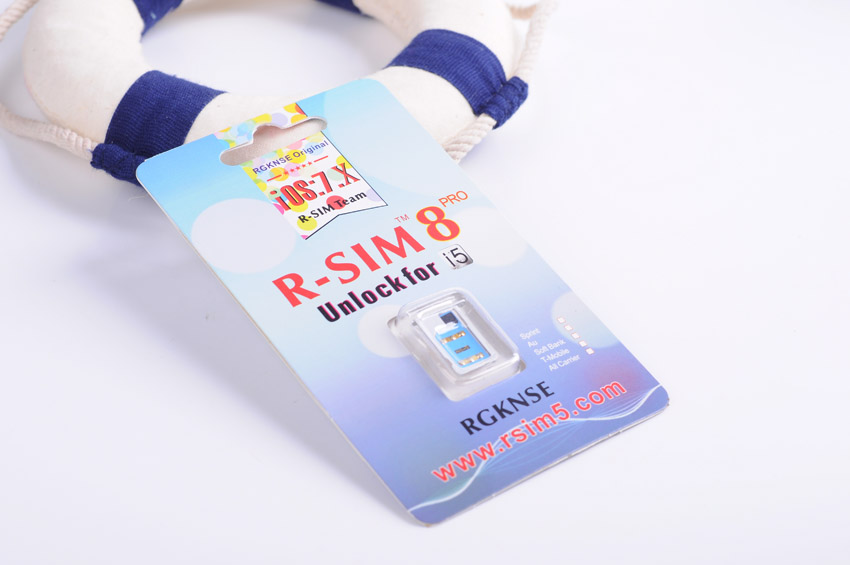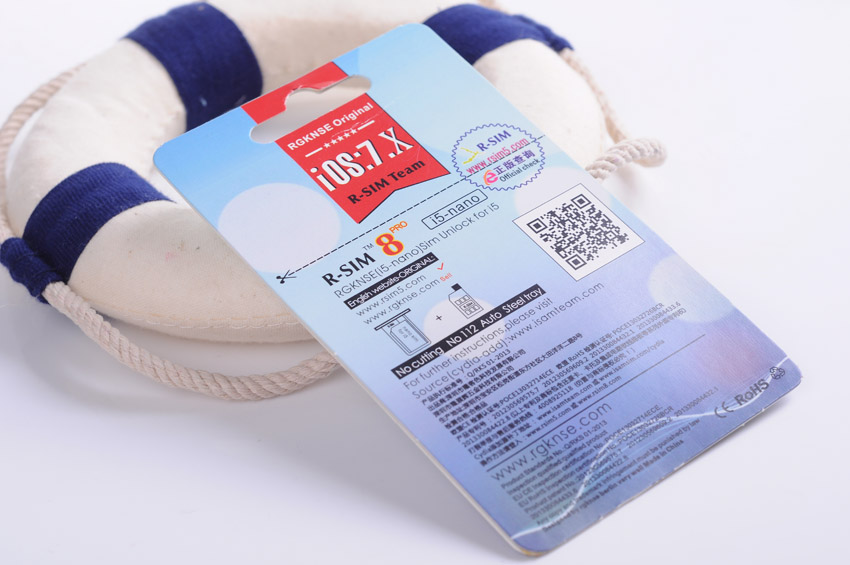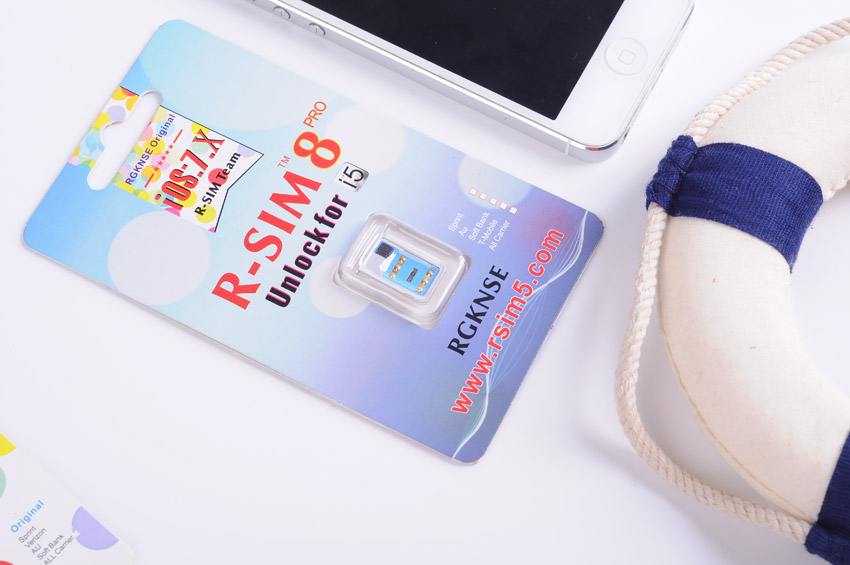 R-SIM 8 PRO product details:
Product Standards No.: Q/RKS 01-2013 (The only one brand which has the Legal certification in the area of unlock sim card in the world. )
EU CE Inspection certification No. : POCE13032714ECE,
EU RoHS Inspection certification No. : POCE13032726BCR (The only one and the frist one brand which pass the CE and RoHS certification in the arear of unlock sim card in the world.)
The product patent No. : 1. The SIM Tray: ZL201230569575.7 2. The SIM adapter: ZL201230569609.2 3. The chipset integrated Soft PC Board: 201330084422.8 (these patents including all the patent in the R-SIM 8 GOLD except the sim pin. )
There are some fake R-SIM 7 and R-SIM 7+ in the market, all of them are infringement act, Hope customers will monitor and report! Our lawyer will obtain the evidence according to law and investigate and affix legal liability.
Complaint and After-Sale Service hot line: 4008925118

Country

Carrier

Code 1

Code 2

(Canada)

Bell

3026103

Fido

3023703

Rogers

3027204

Telus

3022200

(USA)

AT&T2

3104101

Sprint

3160100

iphone5
3101200

Verizon Wireless

2040438

cspire 3112300

(Germany)

T-Mobile

2620125

2620608

Vodafone

2620208

(Britain)

3

2342091

O2

2341091

Orange

2343301

2343320

T-Mobile

2343091

Vodafone

2341590

(France)

Bouygues

2082031

Orange

2080131

SFR

2081031

(Australia)

Optus

5050234

Telstra

5050134

Vodafone

5050379

(Japan)

au

4540492

iphone5
4405014

SoftBank

4402081

(Korea)

olleh

4500818

(Philippines)

Globe

5150201

(Spain)

Movistar

2140731

2140785

Orange

2140333

Vodafone

2140130

YOIGO

21404xx

(Sweden)

3

2400232

TELE2

24007xx

Telenor

2400885

2400680

Telia

24001xx

(Switzerland)

Orange

22803XX

Sunrise

22802XX


(Ireland)

O2

2720231

Vodafone

2720161

(Poland)

Orange

26003XX

T-Mobile

26002XX

(Hungary)

T-Mobile

21630XX

Vodafone

21670XX

(Austria)

Orange

2320588

T-Mobile

2320328

A1 Telekom

2320111

(Mexico)
Nextel
3340100
Telcel
3340200
Iusacell
3340500
Movistar
3340300
(China)
China Unicom联通
4600100
China Mobile移动
4600000/4600200/4600700
China telecom电信
4600300
2040400
(Finland)
DNA
2441200
(Venezuela)
Digitel
7340300/7340200/7340100
Movistar
7340400
(Bolivia)
Telecel

7360300
Nuevatel
7360100
ENTEL
7360200